With thousands of verified 5-star reviews, what is it about the Mommesilk pillowcase that makes the perfect gift to give?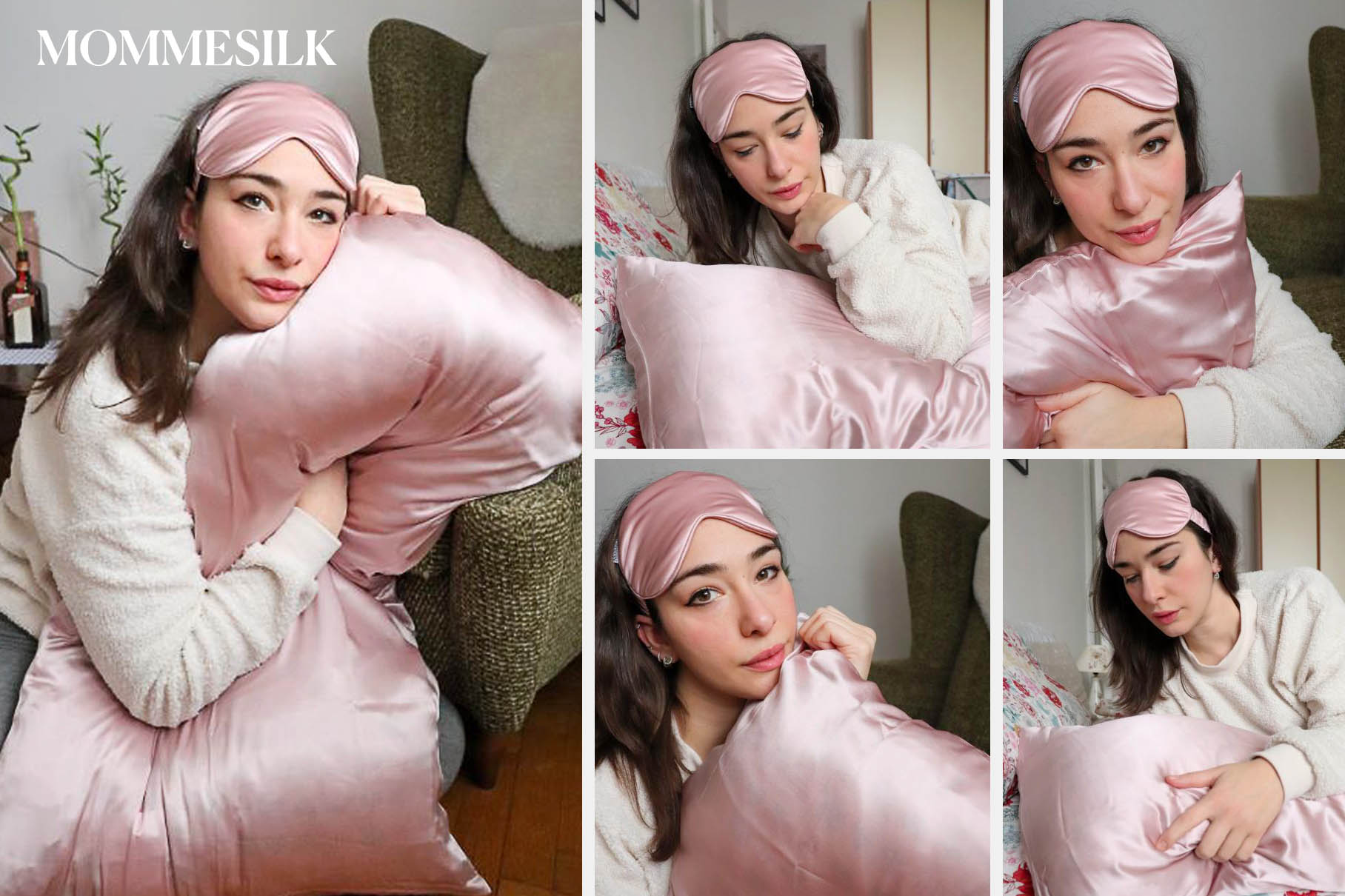 Note: You'll never switch back to cotton again!
Since Mommesilk's first launch in 2014, customers have already been raving about the new addition. The remarkable ability to improve the health and the look of hair and skin, the fair and accessible price made it one of the hottest new must-have products.
With the holidays quickly approaching, it's time to start the hunt for the perfect gifts for those special people in your life. The Mommesilk Pillowcase is a gift that your special someone will use every day. It'll be one of, if not their most favorite gift for some time. Mommesilk was given for Birthdays, Christmas, Weddings, Bridal Showers, Mother's Day, Father's Day, everybody wants Mommesilk as a gift, even kids!
Everyone goes to sleep, so Mommesilk is the gift you can give anyone! Men,women, young, old.

Holly received this pillowcase and silk eye mask as a birthday gift; she said 'After putting on my new pillowcase and mask for a nap, I awoke after the most amazing, deepest sleep I think I've had in years, and that is a true miracle as since being a mother of 2 I never sleep deeply. Whatever that combination of silk, mask etc... what you have created has been truly most amazing sleep experiences I've had in years and I don't say this lightly. (And the packaging was nice too :) I like them so much!'

Another lovely Mommesilk user added, 'Silk doesn't just make us feel more elegant. It has very real benefits. Once I saw Marnie Nussbaum MD, a New York City dermatologist, told Well+Good that cotton pillowcases can increase friction, leading to more wrinkles, whereas silk is more gentle to the skin and can potentially prevent wrinkles from sprouting. So i decided to try silk. During my month of using a silk pillowcase, I definitely felt like my wrinkles were less pronounced, especially around my eyes and mouth. After giving this experiment a go, I've decided to swap out my cotton pillowcase for a silk one permanently. I can only imagine the benefits my hair and skin will reap in the long run based on the positive changes I've seen after doing so for just one month.'

Who'd have thought that a silk pillowcase could make such a difference for your skin and hair? Thousands of people are buying Mommesilk pillowcases for their friends and family. Silk pillowcases can be a game-changer for older skin, especially for pillow lines.
silk pillowcases products

How can a pillowcase give you all these benefits?

The Mommesilk Pillowcase can improve the health and look of your hair and skin.
Made from 22-Momme 100% Mulberry Silk, the Mommesilk pillowcases are incredibly soft and smooth. Pillowcases made from other fabrics, cotton, for example, produce high amounts of friction and absorb lots of moisture. Friction not only irritates your skin, but it also damages your hair. Your hair grinds between your head and your pillow when you sleep. While your face drags across the fabric. With beneficial properties, a natural sheen, and a supremely soft touch, Mommesilk now includes pillowcases for the family, beautiful scrunchies for your hair, and sleepwear for a night of better sleep. You will feel comfortable all day long.

When you wake up with a Mommesilk pure mulberry pillowcase, your hair will be healthier, shinier, and it'll feel great!

It will help you prevent wrinkles.
When you get older, the fine lines take longer to disappear when you wake up, sometimes not fading until lunch time. Night time is when the skin repairs itself. Using Mommesilk pillowcase can give your skin the chance to breathe naturally.
Mommesilk 100% natural skin pillowcase aids with skin repair because it maintains the moisture levels of the skin. This product is different from usual as it is made from pure mulberry silk, which contains amino acids, the building blocks of your skin. When sleeping on this pillowcase, your night cream is fully absorbed by the skin and won't rub off like it usually does, therefore allowing the cream to work to maximum effect.
Mommesilk stops your face drying out during the night (very common during winter months when central heating is on.) because moisture levels are being maintained throughout the night, deeper lines and wrinkles are not forming.

It reduces frizz and keeps your hair smooth and shiny.
When it comes to your hair, silk has the same naturally-occurring proteins as your hair, which is thought to keep your mane strong, shiny and healthy.
The smooth surface also avoids friction and static, so you can wake up with softer hair and less frizz. It will make your blow dry stretch last longer.
Because the material is less absorvent, your scalp won't need to produce as much oil during the night - making your no wash days go up, and your dry shampoo bill go down.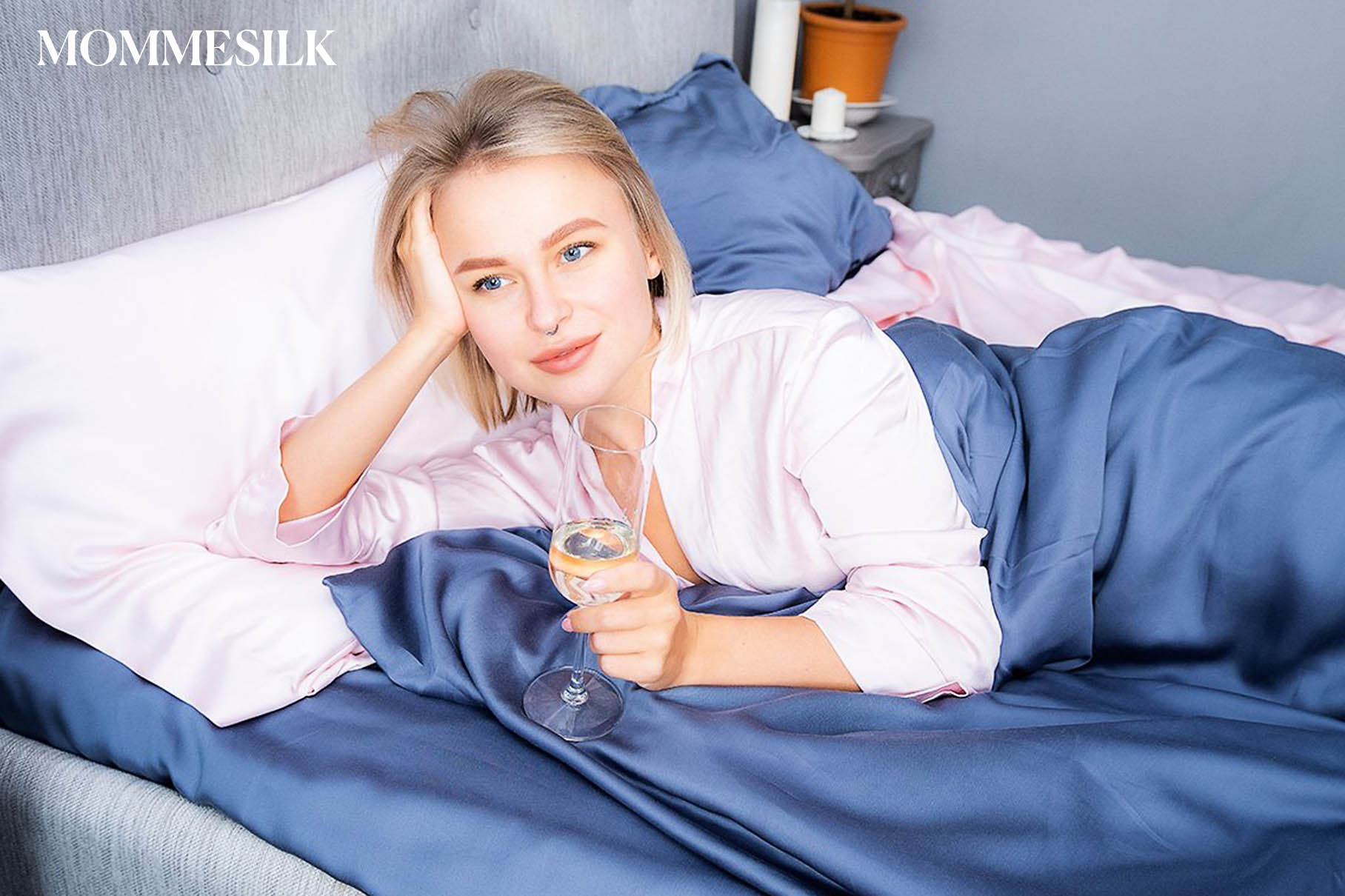 It will help enhance your skin.
Recommended by dermatologists as an anti-aging tool, silk pillowcases, sheets let skin remain its natural moisture while you sleep, keeping it soft, supple and helping reduce fine lines and wrinkles. Rougher materials, like cotton, is a very absorbent fabric that draws moisture from your face and hair.
It is Naturally Hypo-allergic & Friendly to Sensitive Skin.
According to science, silk is made of strings of amino acids with the same ph level as our skin, it is naturally hypo-allergic, natural mulberry silk containing sericin, a protein that reduces the possibility of an allergic reaction and thus is beneficial for those who suffer sensitive skin and itchy skin, such as (rosacea and eczema).

It comes with Mommesilk's 100 Night Sleep trial.
One hundred nights is the perfect amount of time to determine if this is the right choice for you and provides enough nights to play with your adjustments if needed. Mommesilk wants to ensure your comfort with our product, so you can return your pillowcase within 100 nights of purchase for a full refund as long as the pillowcase is not damaged and is in like-new or donatable condition.

It is machine-washable and easy to care for.
You can machine-wash your Mommesilk repeatedly, and it won't get ruined like so many other fabrics. Because of its anti-bacterial properties, the Mommesilk pillowcase can be washed 3x less than your cotton pillowcase and still be as fresh as day 1. Your Mommesilk pillowcases will always feel and smell fresh like it did on the very first day you used it.

This little beauty can pack up and go with you anywhere.
If you are a regular traveler, then you know how nice it is to get home and fall back into your own bed. Sleep never feels quite as restful when on the road, especially if you have trouble sleeping in unfamiliar places, on unfamiliar beds. A simple way to bring along a personal item without having to take up much space, is to bring your choice of silk pillowcase. Bring Mommesilk pillowcases with you during travel - you will get a resetful night's sleep and pamper your skin while you're away from home.

Sound too good to be true?
Take a look at what some people have been saying about their Mommesilk pillowcases.

''These pillow cases are awesome! They are incredibly soft and very nice colors. I purchased four for our bedroom a year ago and they have held up beautifully. We typically machine wash and air dry weekly. I recently purchased two more to have additional colors. This is an excellent product and a great value!''-Heather.

''We bought this for my little boy who sleeps like a wild man and wakes up with an absolute nest on the back of his head. This hasn't eliminated bedhead entirely, but it has helped immensely. Now his hair may be sticking up, but at least it's the texture of hair.''-Jones.

''After switching to these silk pillowcases 2 months ago, I've realized these pillowcases have a super smooth texture over which my hair and skin glide without any friction, and I no longer wake up with frizzies, tangles, and facial creases. I now swear by silk pillowcases and purchased more for my friends for Christmas.''-Elena

These pillow cases are awesome! They are incredibly soft and very nice colors (silver blue and rosy pink). I purchased four for our bedroom a year ago and they have held up beautifully. We typically machine wash and air dry weekly. I recently purchased two more to have additional colors. This is an excellent product and a great value!''-Marlo.

I love this pillow case! it's the best 'silk' pillowcase I've found. It is great with my hair, and my face does not have creases from the pillow case after sleep. It's very soft and comfortable. Washes really nicely. I will be buying more!

''My grandmother wanted a silk pillowcase for her hair/face. When I researched the benefits for hair skin I realized... I NEED ONE MOMMESILK TOO!''-Sarah
With Mommesilk pillowcases, you wake up every day refreshed!

Give the gift of beautiful hair, glowing skin, and the best night's sleep!

*Note: Mommesilk was built on the philosophy that people deserve simple, high-quality silk products at a fair, accessible price. Mommesilk sold direct-to-customer, bypassing the middleman and retail markups to pass the savings on to customers. 

2021 has been challenging. Get Mommesilk pillowcases for your friends and family this Christmas!  It is a great way to upgrade their lifestyle without emptying your bank account.


Special Offer:
As the most important holiday of the year, the company is now offering free gift on purchase+ extra $25 off on orders $200+ to all customers.
They can remove the deal at any time, so act now to take advantage of this special offer.
Plus, if you aren't pleased with your Mommesilk Pillowcase, return them unopened for a full refund. No questions asked!
Mommesilk makes a perfect gift for both Men and Women this Christmas! Check Availability>>


Unlock Deals & Check Availability

Click the link above to check the Christmas Deals. The lowest price of the year.


© 2021 mommesilk. all rights reserved. privacy policy terms of use
the above article is an advertisement and not an actual news article, blog, or consumer protection update
the story depicted on this site and the person depicted in the story are not actual news. rather, this story is based on the results that some people who have used these products have achieved. the results portrayed in the story and in the comments are illustrative, and may not be the results that you achieve with these products. this page could receive compensation for clicks on or purchase of products featured on this site.
1 - testimonial source
---